Frank L Ashley High School
Class Of 1960
ANNOUNCEMENTS
•

Our 60th Reunion will be held May 29-30, 2020 (the weekend after Memorial Day). Details for the reunion have been mailed or e-mailed to you. If you do not receive them within the next week, let us know by e-mailing us at "ashley60reunion.com"

•

We are all set for you to register on-line. Click on "60th Reunion - Register" to begin. Use the instructions sent to you via e-mail or regular mail to guide you through the process.

Also, the ability to reserve a hotel room at the Hampton Inn is provided. Click on "Hotel Reservations", then click on the Hampton In logo.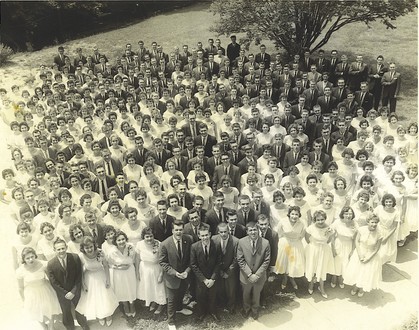 Welcome to the Frank L Ashley High Class Of 1960 web site.
This is a site in progress. We will be updating it regularly so keep checking it. More than that, it is an interactive site where you can communicate with the entire class or selective classmates. Use it & enjoy it.
Before doing anything, click on Getting Started. It contains instructions on how to use the site.
John Parker, web site administrator
Collection of References and Links:



script type="text/javascript"> var gaJsHost = (("https:" == document.location.protocol) ? "https://ssl." : "http://www."); document.write(unescape("%3Cscript src='" + gaJsHost + "google-analytics.com/ga.js' type='text/javascript'%3E%3C/script%3E"));