Frank L Ashley High School
Class Of 1960
ANNOUNCEMENTS
•

New Dates for Reunion

September 23-24 (Wednesday-Thursday)

We have chosen a time in September (Sept. 23-24) that is a Wednesday-Thursday. We only had a choice of two available dates and decided to go with that. I don't think any of us are still working, and there would be fewer conflicts if we avoided the weekend. I hope that date is good for you.

We plan to have the same events as originally planned: party at Rankin Lake in the building on Wednesday and then the dinner/party at the Country Club on Thursday night. Right now we're not sure about the Loray Mill tour.

If you registered for the May 29-30 date

You do not need to re-register

If you sent your check:

If you told us to apply it to the new date, you do not have to do anything.

If you told us to shred or refund your check, you must send us another one by July 24th.

If you have not sent your check, do so by July 24th.

If you have not registered, please do by July 24th.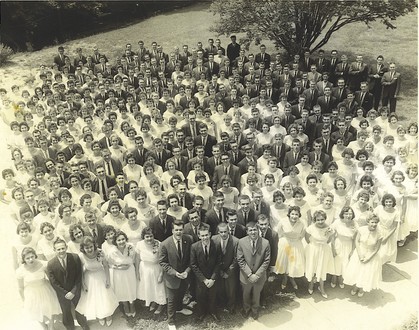 Welcome to the Frank L Ashley High Class Of 1960 web site.
This is a site in progress. We will be updating it regularly so keep checking it. More than that, it is an interactive site where you can communicate with the entire class or selective classmates. Use it & enjoy it.
Before doing anything, click on Getting Started. It contains instructions on how to use the site.
John Parker, web site administrator
Collection of References and Links:



script type="text/javascript"> var gaJsHost = (("https:" == document.location.protocol) ? "https://ssl." : "http://www."); document.write(unescape("%3Cscript src='" + gaJsHost + "google-analytics.com/ga.js' type='text/javascript'%3E%3C/script%3E"));