Frank L Ashley High School
Class Of 1960
ANNOUNCEMENTS
•

It has been 50 days since our 60th (+2) reunion ended. For us committee members it was the culmination of almost three years of planning and revising. As usual, this was a fun reunion, especially Thursday night with Jim hosting the "Name That Tune" competition. It was also bittersweet as so many classmates had to refrain from coming due to illness to themselves or their spouse or accidents. A dozen or more had to back out at the last minute. At least one classmate did so due to their exposure to someone who had tested positive for COVID. We are grateful to him for his restraint.

The photos that Jim's sister-in-law Cindy took are available for you to see, 60th (+2)Reunion Pictures. She did a wonderful job of cajoling and herding us. The pictures are great.

We, the committee, will resume meeting sometime next year to begin discussing the next reunion. Please, let us know your thoughts about the just completed and the next reunion.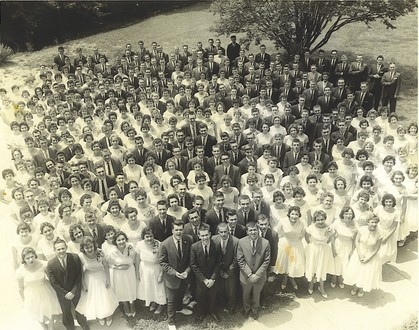 Welcome to the Frank L Ashley High Class Of 1960 web site.
This is a site in progress. We will be updating it regularly so keep checking it. More than that, it is an interactive site where you can communicate with the entire class or selective classmates. Use it & enjoy it.
Before doing anything, click on Getting Started. It contains instructions on how to use the site.
John Parker, web site administrator
Collection of References and Links:



script type="text/javascript"> var gaJsHost = (("https:" == document.location.protocol) ? "https://ssl." : "http://www."); document.write(unescape("%3Cscript src='" + gaJsHost + "google-analytics.com/ga.js' type='text/javascript'%3E%3C/script%3E"));