Frank L Ashley High School
Class Of 1960
ANNOUNCEMENTS
•

IMPORTANT NOTICE

Please note the following:

The deadline for registering for the reunion is drawing near. If you have not registered/paid, please do so. We need accurate numbers to finalize things.

Also, the cutoff for getting your information into our much smaller booklet, which might be our last, is August 15.

For all of you planning to attend

In a few lines tell us about your life at this time (family updates, recent moves, activities you enjoy, etc.)

If your contact information (address, cell and/or home phone number, etc.} has changed, send us the new information.

Mail or email to

AHS Class of 60

2318 Shaw Ave.

Gastonia, NC 28054

John_e_parker@Yahoo.com

A new Moment with Mickey has been added below. Meaningful words for these times.

•

New Dates for the 60th(+2) Reunion:

Thursday October 6 - Friday October 7

A packet containing a letter, registration forms, and instructions is available for you to read and print. Click on "2022 Reunion Packet" in the green bar on left.

----------------------------------------------------------------------

•

We need everyone to take the Vaccination Survey, especially those who are planning to come to the reunion. Your response may help a classmate who is undecided about coming due to their concrn about COVID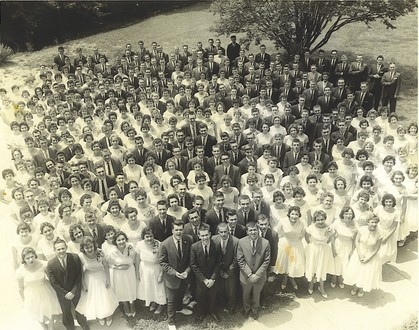 Welcome to the Frank L Ashley High Class Of 1960 web site.
This is a site in progress. We will be updating it regularly so keep checking it. More than that, it is an interactive site where you can communicate with the entire class or selective classmates. Use it & enjoy it.
Before doing anything, click on Getting Started. It contains instructions on how to use the site.
John Parker, web site administrator
Collection of References and Links:



script type="text/javascript"> var gaJsHost = (("https:" == document.location.protocol) ? "https://ssl." : "http://www."); document.write(unescape("%3Cscript src='" + gaJsHost + "google-analytics.com/ga.js' type='text/javascript'%3E%3C/script%3E"));