Frank L Ashley High School
Class Of 1960
ANNOUNCEMENTS
•

Reunion

September 30 - October 1, 2021

A page titled "2021 Reunion Packet" is provided at the top of the green bar on left. Clicking on it will provide you with a link to the information we usually mail.

-----------------------------------------------------------------------

The same events, places, and prices remain as originally scheduled only the dates have changed

Thursday (4:00 - 9:30) Informal party with hamburgers and hotdogs at Rankin Lake Clubhouse
Friday (beginning at 6:00) Party at Gastonia Country Club including dinner, music with DJ

The price, which includes both events, will remain at $60 per person ($120 per couple).

Please have your registration and check to us by August 1. (See 60th Reunion for forms to include)

PLEASE update your profile on this website. This information will appear in our souvenir reunion booklet, most likely the last one to be printed. To do so...

first be sure you are logged in ( top right)
In green menu on the left, find Member Functions, then Edit Contact Information (do that)
after editing and saving your changes (at the bottom of the page), go to the Edit Profile.
Be sure to SAVE any changes you make (bottom of page ).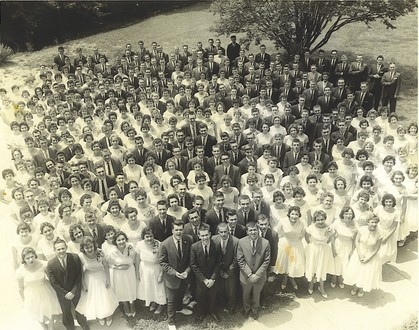 Welcome to the Frank L Ashley High Class Of 1960 web site.
This is a site in progress. We will be updating it regularly so keep checking it. More than that, it is an interactive site where you can communicate with the entire class or selective classmates. Use it & enjoy it.
Before doing anything, click on Getting Started. It contains instructions on how to use the site.
John Parker, web site administrator
Collection of References and Links:



script type="text/javascript"> var gaJsHost = (("https:" == document.location.protocol) ? "https://ssl." : "http://www."); document.write(unescape("%3Cscript src='" + gaJsHost + "google-analytics.com/ga.js' type='text/javascript'%3E%3C/script%3E"));